Found some news? Submit it here >>>
Crews late field goal lifts Waukee over Fort Dodge

(10/23/2015)
Waukee junior kicker Skyler Crew lined up for a 32-yard field goal to put the Waukee football team in the lead with under two minutes to go in the de facto Class 4A, District 4 Championship game against Fort Dodge on Friday, Oct. 16 at Waukee Stadium. ...

Just For Kicks

(10/23/2015)
The sun was setting as Connor Coles jogged onto the Van Winkle Stadium Turf...

St. Fred faces rough trip at Delhi Charter

(10/17/2015)
The Mangham Dragons (7-0, 2-0) proved they were the top team in Class 1A with a 40-20 victory over the St. Frederick Warriors (5-2, 1-1) at Mangham's Labrano Field at Dragon Stadium on Friday, Oct. 17....

2015 Minnesota Bombers Top Specialists Class

(10/1/2015)
14 Minnesota Kickers, Punters and Snappers earned a spot on the 2015 Class of Minnesota Bombers Top Specialists Group. ...

AmFam ALL-USA Inland NW Weekly Performers (Sept. 14)

(9/14/2015)
Mead Kicker Conaire Shaffer - Four made field goals, including a 46-yarder, in the Panthers' win over Southridge....

Minnesota Special Teams Player of the Week

(9/7/2015)
Our week 3 Minnesota Prep Athlete Special Teams Player of the Week hails from Mahtomedi, Chase Sullivan. He had a big day for his team kicking 2 for 2 on PATS and also going kicking 3 Field Goals of 21, 31 and 23 yards and scoring 11 points for his team. ...

Loyola picks up win at Cedar Creek

(9/5/2015)
Josh Hawboldt nailed a 22-yard field goal for a 10-0 Loyola lead with 10 seconds remaining in the first quarter...

Warrior Bomb Squad

(9/2/2015)
Warrior Bomb Squad - "Helping kids kick illness"...

11 in 11 Special Teams

(8/28/2015)
The left-footed Scarlett proved himself to be an effective weapon in virtually every aspect of the kicking game for the Cardinals last season...

Trojans should have advantage in field position

(8/13/2015)
Nathanael Snyder's kickoffs over the course of a Center Grove football game often are things of beauty — end-over-end spectacles as high as they are deep....

Gavin Hayz Corder - Competition Event Stats

(8/8/2015)
Gavin Hayz Corder event stats from NCS competition...


Former Station Camp kicker honored

(7/9/2015)
Former Station Camp kicker Christian Reed was recently honored for his stellar season with the Nashville Venom. Reed was named the to the All-PIFL second team, just days after the Venom's season came to a close in the Professional Indoor Football League playoffs. T.C. Stevens, a kicker for the Richmond Raiders, took first team honors. ...


VEAL, REED GET FINAL REGULAR SEASON HONORS

(6/23/2015)
NASHVILLE (June 23, 2015) - Week 14 was a stellar weekend for the Nashville Venom. They defeated the Trenton Freedom 57-37 and two players were named to the Professional Indoor Football League Players of the Week in the final regular season week....

Gavin Corder PK St. freds

(6/5/2015)
Freshmen kicker at St. Fredericks is kicking 50 yd field goals with ease....


Ex-Station Camp kicker is PIFL specialist of the week

(4/7/2015)
Former Station Camp kicker Christian Reed, who now plays for the Nashville Venom, was named Specialist of the Week for the Professional Indoor Football League Tuesday....

Elite Camp Specialists

(1/30/2015)
This year we selected our 'Special Ops Event Elite' specialist who were selected as the 'pound for pound' top specialist for their respective graduating classes. These top specialists were very exceptional and deserve some immediate collegiate attention....

2014 High School All American Teams

(1/15/2015)
Kohl's Kicking Camps is proud to release its 2014 All-American Teams for the 2014 high school season. ...

Kicking It With Sean Gomez

(1/1/2015)
SES kicks it with one of the state's top young talents....

Prep football: Naples High kickers Jerry Nunez, Adrian Gorrostieta sweep kicking camp awards

(12/23/2014)
Naples High School place-kicker Jerry Nunez and junior varsity place-kicker Adrian Gorrostieta were named kicking champions at Brandon Kornblue's Kicking and Snapping Challenge in Fort Lauderdale recently...

Cedar Hill beats Katy again for back-to-back state titles

(12/20/2014)
ARLINGTON, Texas -- Cedar Hill got redemption last year. This time, the Longhorns proved they're a Texas dynasty in the third consecutive meeting with Katy for the state title...

---
| | | |
| --- | --- | --- |
| | -- Joseph Campbell | |

Track your Field Goals, Kickoffs and Punts with the Kick Tracker App!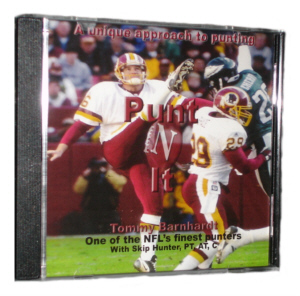 The BEST punting video - complete with 3-stage punting approach, holding, stretching tips, and more -- check out Tommy Barnhardt's "Punt-N-It" DVD >>>
$19.95