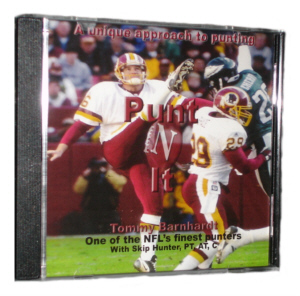 Congratulations on wanting to learn the finer points of punting the football. The information you are about to see has a tremendous track record and it has been very effective in developing this skill. These drills will give you the best way to practice and master each phase and it will let you progress at your own speed. These drills have given me the opportunity to play in the NFL for 15 years and be in the top echelon of my profession. This DVD will allow me to pass on my secrets that I have learned during my career. All of my coaches that have shared these fundamentals with me have gone on to coach in the NFL and are well respected at their positions.

One of the best ways to learn a complex skill is to practice the parts of the skill before you try the whole skill. This method is called The Whole-Part-Whole learning theory. This method involves first teaching and practicing the whole and then teaching and practicing one of its parts. Once the part is learned, the whole is practiced again. This procedure is repeated for each of the remaining parts.

The Punt-N-It DVD is perfect for all ages and all skill levels.

Learn from someone that has been in live situations. Even If you've never picked up a football in your life, my Whole-Part-Whole learning theory will provide you with the skills you need to become the next secret weapon for your team

One way to employ this method is to teach (a) punt the football, (b) steps in a straight line at the target, (c) practice punting the football; (d) drops, (e) practice punting the football; (f) head and follow-through; (g) practice until it is mastered; (h) practice punting the football.

After observing the practice, you can tell what parts need the most work.

DVD Instruction includes:

STRETCHING - Flexibility is an important part of punting the football. Video begins with a five minute segment by Skip Hunter, one of the top sports medicine physical therapists in the country. Hunter was the Head Trainer at the University of North Carolina for more than a decade and now owns 14 physical therapy clinics in North and South Carolina.

FLEXIBILITY:

Purpose


When to stretch


Stretching exercises

PUNTING:

1) Steps:
Walking in a straight line

Striding

Walking and catching the ball
2) Catch and Mold:
Hand placement

Ball rotation

Ball placement
3) Drops:
Pointing the ball

Releasing the ball

Placing the ball on foot
4) Head and Follow Through:
Focus of eyes

Head movement
5) Leg Swing:
Leg motion

Hip rotation

Leg speed
HOLDING - I will also include a bonus 5 minutes on the art of holding for place kickers. Many punters are asked to do this by the coach since their practice schedule best coincides with the kicker.
Catching the ball with index finger on point of ball

Setting up to spot for ball placement

Hinge for elbow

Turning laces to front
Virtual Private Instruction - Another unique feature of this product is its connection to this website. When you purchase your 'Punt-N-It' DVD, you are entitled to "online support" sessions. This means you can email Tommy with questions you have about anything on the DVD.
If you are not sure if 'Punt N It' is right for you, email Tommy and ask him what he thinks.
---
What They're saying about 'Punt N It'...
"Tommy is a very technical punter with a lot of knowledge about the position. He excels in all areas of punting: directional, coffin corner, pooch punts, and down the middle. He has been in the league a long time and he makes a concerted effort to prepare for each Sunday"
- LeCharls McDaniel, Former Redskins Special Teams Coach
San Diego State Special Teams Coach
"There is a reason why Tommy is in his 15th year and at the age of 37 there is no reason he can't play for another five years. The reason he can play this long is because he knows exactly what it takes both on and off the field to perform at the NFL level. He is the consummate pro when it comes to taking care of his body and he truly studies the game of football. It would be to anyone's benefit to listen to what Tommy Barnhardt has to say about the art of punting"

- Joe Marciano, Special Teams Coach
Houston Texans

"One of the factors responsible for Tommy's 15 successful seasons in the NFL is that he not only knows sound technical and psychological techniques, he applies and implements them in both the practice and game situations. His use of learning theory like the Whole-Part-Whole technique is an outstanding example of taking theory and turning it into practice - practice that works in the NFL"

- John M. Silva PhD, Professor Sports Psychology
University of North Carolina - Chapel Hill

"I have known Tommy Barnhardt since he was a senior in high school and then had the special opportunity to be his coach at the University of North Carolina. He had a good leg when I first met him, but through hard work, dedication, attention to fundamentals and Practice, Practice, Practice, he became truly one of the outstanding punters of the last 15 years. His knowledge of technique, his devotion to the game, and his willingness to share his talents should make his video a "must" for all punters aspiring to be good at their craft"

- Chuck Priefer, Special Teams Coach
Detroit Lions

"Flexibility is an integral part of any kicking motion. Increased flexibility allows the foot to remain on the ground longer providing more force, allows the hips to stay square to the target, and muscle elasticity allows greater limb velocity"

- Skip Hunter, P.T., A.T.,C.
Clemson Sports Medicine and Rehabilitation
Clemson University

"Tommy is consistently what you want from a punter. In recent years, he's been the best! It doesn't matter if he's kicking out of the endzone or at mid-field, he's just as steady"

- Pat Summerall, FOX Play-by-play Announcer
Kicker for NY Giants (1958-61)

NOTICE: There are no refunds once the shrink wrap on the DVD is opened. Sorry.


Punt-N-It DVD

$19.95 US