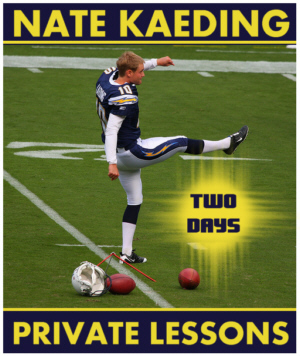 Nate is one of the most accurate NFL kickers of all-time, and is wanting to help serious kickers make dramatic improvements in their skills with a 2-day private lesson package.
As a licensed teacher, Nate has excellent teaching skills, complete with lesson plans, in order to make the lesson successful for you. He will be sharing his positive and negative experiences with you, so you can take advantage of his keys to success. To read more about Nate's views on kicking, read his Recipe for Success (Premium members only).
Daily Schedule
Each day will be around 4 hours long. Approximately 1 hour of drills, 1 hour of kicking, and 2 hours of discussion and non-kicking exercises. Time of day will vary depending on workout facility availability, Nate's schedule and your schedule.
How it Works
You will be interviewed by Kicking.com, to make sure your request for private instruction is serious, and you are truly wanting to get better as a kicker. We will send you a contract to sign and fax back to us, which states your intention to provide payment on the first day of lessons.
Once you have been approved, we will coordinate with you and Nate on specifics about a date and time for the actual instruction. All parents are welcome to attend and listen to instruction given. If you fail to attend the lesson at the agreed upon time and place without notifying us, you will be charged for the lessons.
Your private lesson will reside where Nate is currently located, depending on the month of the year. Do not setup travel plans until a confirmation date is agreed upon!
February - Iowa City
March - Iowa City
April - Iowa City
May - Iowa City
June - Iowa City
July - Iowa City

If you have questions about the private instruction, contact Brion, and we will relay the message to Nate.
Your private lesson will be customized by Nate, depending on your needs and goals. The lesson will include...
Mental Techniques

Field Goal Techniques

Kick-Off Techniques

Off-Season Training and Lifting Program

In-Season Training Tips

Flexibility and Stretching Drills

General Kicking Tips and Drills
And much more...