2005 Year End Awards
Finally, the 2005 awards have been finalized, and winners are listed below. These were selected purely on stats alone, so if your stats were incomplete as of 1/21/06, you may not have been eligible for these awards. If there are any stats that are questionable or falsely reported, please let me know, and we will adjust the awards accordingly. We will wait until the end of March to send out awards, to make sure we clean through any stat discrepancies.
Professional Leagues (NFL, NFLE, CFL, Indoor leagues, Semipro)
Kicker of the Year - Sean Riley
Second Team - Brian Clawson
Honorable Mention - Josh Scobee
Punter of the Year - No candidates

College (All college divisions, including Canada and Mexico)
Kicker of the Year - Brian Wingert
Second Team - Michael Salerno
Honorable Mention - Taylor Rowan

Punter of the Year - Ryan Smith
Second Team - Ryan Harrison
Honorable Mention - Ricky Schmitt

International (all other countries at all levels of play)
Kicker of the Year - Mike Godfrey
Punter of the Year - Sascha Jungblut
---

| | | |
| --- | --- | --- |
| | -- Sadaharu Oh | |

Doug and Tommy's Frequently Asked Questions: "I have been kicking lately and seen that something just isn't right. My steps are the same, but my point of contact on the ball changes from kick to kick. On kick the ball might be on my ankle, and then the next time it might be on my toe. Then I will have a series of kicks where I hit the sweet spot. What are some things I can do to improve my contact?" -- Click here to read our answer

Track your Field Goals, Kickoffs and Punts with the Kick Tracker App!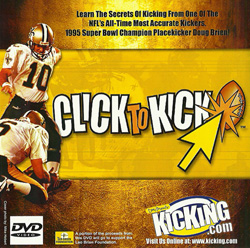 NEW and IMPROVED! - The BEST kicking advice - complete with video instruction, drills and tips, checklists, workout routines, mental relaxation tips, and more -- check out Doug Brien's "Click to Kick" DVD >>>
$39.99