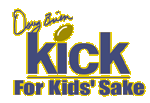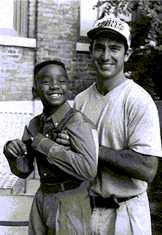 As a senior at Cal I felt an obligation to give some of my good fortune back to my community. After all, I was originally a walk-on with the sole mission of becoming the starting placekicker. I couldn't figure out why I was so lucky to become a three-year starter and a school record holder, with a chance to become a professional; it was more than I ever expected. With my final season at Cal, and possibly the last of my career, I decided to take advantage of the situation and make some money for a good cause.

With so many wealthy alumni associated with Cal football, I knew there must be some way to get their deep pocket books to help support my cause, and maybe even make the games a little more exciting for them. (Several alumni commented, after the season, that they took a special interest in my kicking because they knew my success was for a bigger cause, not just points on the board). I decided to ask them to sponsor me for every field goal I kicked. I was even able to get some corporations to "kick" in some money.
During that same time period, I was considering being a "Big Brother" to a youth in my area. When I called the agency to investigate that possibility they informed me that the agency was currently unable to make matches due to budget constraints. I decided that Big Brothers/Big Sisters was a cause worthy of some additional financial assistance. I attribute much of my success to the fact that I had two great role models in my parents. A positive role model can go along way in making an impact on a child's life. Doesn't every kid deserve that opportunity? I thought so.
By the end of the season I had made 18 of 21 field goals and raised $28,000! I couldn't believe how successful and relatively easy this project turned out to be. In addition to raising money, there was a lot of exposure generated for BB/BS. In the non-profit sector exposure equals interest. And with BB/BS it equals volunteers wanting to be a Big Brother!
With children in single parent homes becoming more and more of a social norm, the importance of BB/BS is increasing exponentially. Matching caring adults with needy children is expensive. Screening of adults and matching people with similar interests takes many hours of caseworkers time. With an estimated cost of $1000 per match, I feel that the program can have a significant impact.
I took being drafted by the '49ers (the "home team") as an indication that my work with Big Brothers/Big Sisters was not complete. With far more exposure through the NFL I felt like the sky was the limit to how much money I could raise for the organization. In my six seasons in the NFL, the program has raised over $200,000 for the agencies in both Northern California and Southeast Louisiana.
Although I've retired from the NFL, Big Brothers Big Sisters still needs your help. If you are interested in donating to this worthy cause, email me
.
---
| | | |
| --- | --- | --- |
| | -- Kicking.com member who signed with D1 school | |