Sorry, but your membership does not allow access to this content.
You must upgrade to a Premium membership.
Practice/game tracking system and charting - now you can enter your kicking and punting results into our database, and get a summarized report of your performance. This system will generate statistics and graphs to help you identify your weaknesses, assess how you perform from practice to practice, and determining whether you are getting better over time.

View sample reports from this new system:

Read an article about how this data can be used for evaluation >>> [PDF]

Download a presentation to learn how to use the charting program [PDF]
---

| | | |
| --- | --- | --- |
| | -- Kicking.com Member | |

Doug and Tommy's Frequently Asked Questions: "Dear Doug, I am 15 years old and I was just wondering how you got where you are now. I know the usual, "work real hard, etc." but I don't think that is specific enough. I'm trying to find out if it is more, like do I need to leave high school on scholarship to college...but then what? Where do you go from there? Do you tryout or wait for them to come for you? Is there even a chance of a kicker with a straight-on shoe even having a chance? I also play hockey, but playing hockey in Pennsylvania is not going to get you anywhere far." -- Click here to read our answer

Fun app game to flick field goals through the uprights!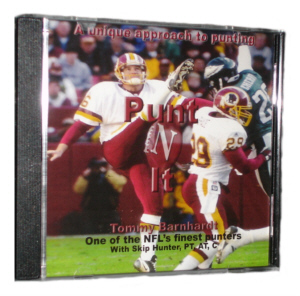 The BEST punting video - complete with 3-stage punting approach, holding, stretching tips, and more -- check out Tommy Barnhardt's "Punt-N-It" DVD >>>
$19.95