2004 Year End Awards
Finally, the 2004 awards have been finalized, and winners are listed below. These were selected purely on stats alone, so if your stats were incomplete as of 1/11/05, you may not have been eligible for these awards. If there are any stats that are questionable or falsely reported, please let me know, and we will adjust the awards accordingly. We will wait until mid-March to send out awards, to make sure we clean through any stat discrepancies. Due to the larger list of winners we added this year, we will NOT be mailing awards to "Honorable Mention" winners.
Professional Leagues (NFL, NFLE, CFL, Indoor leagues, Semipro)
Kicker of the Year - Sean Riley
Honorable Mention - Marco Lessig-Ballas, James Bellar, Scott Van Order
Punter of the Year - Greg Glaser
Honorable Mention - Nick Murphy, Jason Nowak, Dustin Cunningham, Demetrius Polinick

College (All college divisions, including Canada and Mexico)
Kicker of the Year - Luis Adria'N Berlanga Graza
Honorable Mention - Nathan Alleman
Punter of the Year - Cory Newton
Honorable Mention - Christian Koegel
International (all other countries at all levels of play)
Kicker of the Year - Jonathan Riddell
Punter of the Year - Gareth Juddery
---

| | | |
| --- | --- | --- |
| | -- Kicking.com Member | |

Doug and Tommy's Frequently Asked Questions: "Dear Doug, I am 15 years old and I was just wondering how you got where you are now. I know the usual, "work real hard, etc." but I don't think that is specific enough. I'm trying to find out if it is more, like do I need to leave high school on scholarship to college...but then what? Where do you go from there? Do you tryout or wait for them to come for you? Is there even a chance of a kicker with a straight-on shoe even having a chance? I also play hockey, but playing hockey in Pennsylvania is not going to get you anywhere far." -- Click here to read our answer

Track your Field Goals, Kickoffs and Punts with the Kick Tracker App!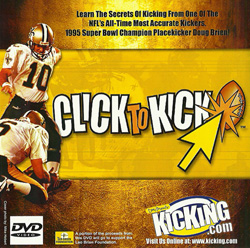 NEW and IMPROVED! - The BEST kicking advice - complete with video instruction, drills and tips, checklists, workout routines, mental relaxation tips, and more -- check out Doug Brien's "Click to Kick" DVD >>>
$39.99