Pro-Holder Portable Above-Ground Unit
Portable holder unit to help you warm-up during the game, even if you don't think you have the space!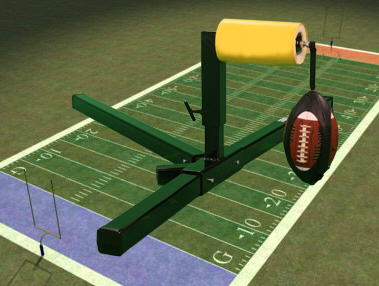 The Pro-Holder Portable Above-Ground unit lets you kick almost anywhere, regardless of space. It allows complete portability (indoors, outdoors, sidelines, at home, away football games, etc). Use it for warm-up kicks, strength building for added distance, perfecting techniques, and determined accuracy. It also comes with the two pipes necessary for the In-Ground application (the head moves from the Portable Unit to the In-Ground).
Stop wasting time fishing balls out of nets or resetting the finger tee. It is the best replacement for warming-up for extra point or field goal attempts, and the perfect way to improve your place kicking and point after kicks.
The size of the portable Pro-Holder takes up less than 12 sq. ft. an average net and finger tee takes approximately 35 sq. ft. enjoy the extra space without your view being obstructed by a big bulky net.
Assembly is a breeze that can take less than a minute to set up or take down. A simple rotation with the ball still in the harness, allows the ease of switching to a left-footed stance.
"You can't feel the harness while kicking the ball," is the reoccurring response from kickers when asked about the harness. "We are getting at the least 2 to 1 kicks using the Pro-Holder verses the net and finger tee!"
Height adjustability allows for perfectly set footballs every time.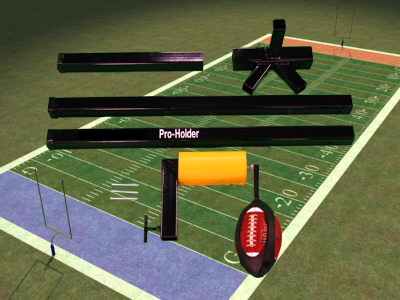 Worried about how much the Pro-Holder weighs? Not a problem, transportation is made easy with our well worth it Pro-Holder Cart.
Watch the video to learn more about the Pro-Holder product line:
Portable unit includes necessary equipment to be used like the Pro-Holder In-Ground unit (the head moves from the portable unit to the in-ground unit when needed).

Pro-Holder Portable Above-Ground Unit
$498 US

---

| | | |
| --- | --- | --- |
| | -- Kicking.com member | |