Highlight Video Review Service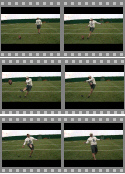 When a coach comes to Kicking.com looking for a kicker or punter, there may be many individuals that fit their criteria. How will the coaches determine which one stands out? Usually through word of mouth, review of your highlight tape or amazing statistics.
By allowing one of us to review your highlight tape, we can be the recommendation that gets your foot in the door. WIth over two decades of NFL experience, we are able to give coaches an honest assessment of your skills, talent and potential.
And as a bonus, if you have an online profile membership, not only will you get the 10% discount on this service, but you will get a special designator in your profile (if you choose) showing that we have reviewed your tape and have commented about you. He will know that there was an unbiased and knowledgeable assessment done already for him. We can also provide you with suggestions for making your highlight tape more appealing and useful to the coaches that will be reviewing it.

"I sent you a demo for evaluation and its been a huge help to myself and my kicker. He is now kicking into the endzone 30% of the time and making 40 yard field goals 50% of the time. Please continue the priceless education to all of us out here. THANKS! - Satisfied HS coach
We will provide an assessment from the tape you send us for the following areas:
technique
leg strength
mental strength (if possible)
fluidity
We will also provide an overall rating for each prospect.
We will score and comment on the following areas:
Kickers
Alignment
Steps
Plant foot
Body position at impact
Follow through
Finish position
Punters
Body Position
Hand work
Steps
Drop
Follow through
Finish position
We try as best as possible to standardize the scoring system so that we take the variation out of the scores. Our philosophy is that if all of the Kicking.com evaluators reviewed your tape, you would receive the near exact same score from each one of them.
NOTE: Kicking.com will only guarantee you an honest assessment of your ability to kick and punt. We have a strong reputation to uphold and will not give a favorable recommendation unless the individual deserving of it. All comments will be constructive and in no way demeaning.
Highlight Video Review Service
$49.99 US

You will receive an email after payment is made instructing you where to send your tape. Feel free to contact us if you have any questions.