The drop steps are broken up into three sections: Elementary, Intermediate, and Advanced
One of the most important components of the punting motion is THE DROP. This is what determines whether or not you strike the ball effectively. Once you catch the ball, rotate the ball so the laces are facing upward. Dominant hand should be placed on back quarter of the ball. You should have fingertip control of the ball. Your grip should allow you to wave the ball around with only your dominant hand on the ball. Opposite hand should be placed on the mid-section of the ball with a very light grip.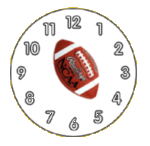 Now turn the ball slightly so the forward tip faces your target at an angle of 11 o'clock... and the back of the ball points to 4 o'clock (don't drop the ball on a straight line to the target).
The nose of the ball should also be tilted slightly downward.

Try this drill to see how your drop is coming along - Line Drop
Additional Help: If you are "pooch" punting and do not want the ball to turn over, tilt the front nose of the ball slightly upward. If you are punting into a strong wind you may want to try dropping the front nose of the ball even more.
---

To read more about Drops, view specific drills and exercises, and view a year-long workout calendar, signup for a Premium membership...
---
| | | |
| --- | --- | --- |
| | -- Mikhail Baryshnikov | |

Doug and Tommy's Frequently Asked Questions: "Does the size of a kicker's foot affect his kicking ability (soccer style)? In other words is there an optimal foot size for kicking a football relative to the size of the football?
Do kickers with smaller feet have an advantage, or is it the other way around?
Am I at a disadvantage with an 11 1/2 foot or not? Can I overcome this, if so, how? Should I switch to toeing the ball?" -- Click here to read our answer