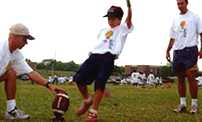 I have spent several summers teaching kids with no previous experience how to kick. Without a doubt, the most successful approach is to keep things as simple as possible. For someone who has never kicked a football before, there are three basic principles to focus on:
Shoe Laces
The point on your foot where contact is made with the ball is critical...


Sweet Spot
Like the ideal point on your foot to make contact with the ball, there is also an ideal spot on a football to hit with your "shoe laces"...


Head Down
This is the last principle, but probably the most critical...

---
| | | |
| --- | --- | --- |
| | -- Wendell Phillips | |

Fun app game to flick field goals through the uprights!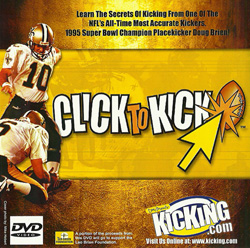 NEW and IMPROVED! - The BEST kicking advice - complete with video instruction, drills and tips, checklists, workout routines, mental relaxation tips, and more -- check out Doug Brien's "Click to Kick" DVD >>>
$39.99