The new DVD version is now available, so we are selling the CDs at a reduced price of $9.99 until we are sold out (sorry no refunds)!
There are some technical glitches on the CD-ROM with newer computers, so click here to read how to resolve them.
Learn how NFL Kicker Doug Brien went from soccer player to NFL kicker in just 6 years!
Never before has an NFL kicker shared this type of information. With Click to Kick you will be exposed to the tricks of the trade that Doug took over 10 years to learn.

You Will Never Use a Kicking Video Tape Again

The Click to Kick CD-ROM is the first-ever instructional kicking CD. This technology takes home instruction to a new level. Have you ever wasted time fast forwarding or rewinding an instructional video tape to find the part you want? Have you ever searched for that perfect video that will teach you everything you need to know? Well, Doug did when he was learning.

That's why he decided to use the best technology available and teach you to kick interactively - you tell Doug what you want to learn and he'll teach. For example, if you want to learn about field goal technique you literally press a button on the screen and that section of the video begins to play; it is that simple.

He even conducted interviews with young kickers to find out exactly what information they want on a CD. The CD includes field goal techniques, kickoff techniques, mental techniques, weekly in-season routines, various kicking tips, and even Doug's off-season training program. You can even press a button on the screen to print-out Doug's mental relaxation script or his workout program. Just about everything Doug learned to make it from soccer player to NFL kicker is in Click to Kick. He even included demonstrations of his "Power Kicker" workout program which is sure to increase your leg strength.

Virtual Private Instruction - Another unique feature of this product is its connection to this website. When you purchase your Click to Kick CD-ROM you are entitled to "CD support" sessions. This means you can email Doug with questions you have about anything on the CD.

This CD-ROM is geared for kickers at all levels: beginner, intermediate, and advanced as well as coaches wanting to improve their team's kicking game. The Beginners will build a solid foundation with Doug's basic techniques. Doug also advises intermediate and advanced kickers to check out his basic techniques and make sure that they are included in every kicker's individual style. The more advanced athletes will also get a lot out of the off-season training programs, weekly in-season routines to maximize their performance on game day, mental techniques to help them kick their best when it counts - in the game, as well as some of Doug's special situation tips. Finally, each and everyone of you will benefit from the ability you will have to print out everything on the CD so you can bring it to the field with you and refer back to it.

With Click to Kick coaches will increase their understanding of the kicking game dramatically. They will have the "tools" to be able understand what is causing their kicker problems and recommend drills to fix the problem. Says Doug, "I wish my high school coach had something like Click to Kick when I was learning because I really could have used his help and I know I could have helped my team more with a little bit of instruction."

If you are not sure if Click to Kick is right for you, email Doug and ask him what he thinks.

The CD Includes...

Mental Techniques

Doug kicked 71% his sophomore year at Cal without any mental instruction but kicked 89% & 86% in his junior & senior years after learning these techniques.

Field Goal Techniques

Doug demonstrates the basics in an easy-to-understand format and that doesn't change your individual style.

Kick-Off Techniques

You will increase your distance, hang time and directional ability.

Doug's Off-Season Training Program

Improve your abilities every off-season by training properly.

In-Season Training Tips

Doug will guide you through a weekly in-season schedule with the proper amount of kicking and training.

Kicking Tips

Doug will demonstrate how to deal with special situations like kicking in the wind.

And much more...
What the Pros say about it...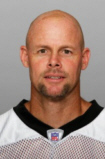 NFL Veteran kicker John Carney
"Click to Kick is one of the best instructional tools I have come across in all of my years of kicking. I highly recommend this tool for high school, college, or professional kickers. Doug covers the whole spectrum of what it takes to be a successful place-kicker at each level. I will be sure to promote this great teaching tool to the campers I worked with at my ABCD Kicking Camp."
---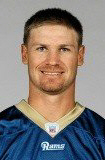 NFL Veteran kicker Jeff Wilkins
"This is an excellent way for beginners and even those who have been kicking for awhile to learn the proper technique and exact mechanics of kicking a football. Click to Kick is just like having a coach. The technology allows you to review the techniques as many times as you like whenever you like. Plus, I have always felt better learning something from someone who has done it themselves, and Doug is one of the best technicians at kicking the football in the NFL. I really feel strong about the last sentence. I can't stand when someone tries to teach you something and they have never done it themselves. How do they know? Anyway, I think it is important for kids to learn from someone who has done it at the highest level possible because then the teaching and technique has been proven!"
---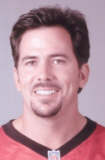 NFL Veteran punter Mark Royals
"I have held for a number of great NFL kickers - Steve Christie, Gary Anderson, Jason Hanson, Martin Gramatica, and Doug Brien - and Doug's techniques and fundamentals are as good as any of them. He is sure to help any kicker improve - especially with the use of Click to Kick's technology."
---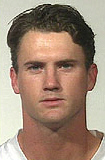 NFL Veteran Punter and kickoff specialist Toby Gowin
"I would have loved to have had access to the type of information that Click to Kick and Kicking.com provide when I was younger and struggling with my kicking."
---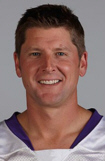 NFL veteran kicker Ryan Longwell
" I have looked through the video over the past week and think it's great."
---
What others say about it...
"I picked up a few things myself and I have been kicking for 14 years....It's a must for anyone who wants to advance to the next level."

- Brion Hurley, placekicker

University of Iowa, NFL, and Arena League

"I am writing to let you know that your tips for during a game really helped me last Friday. We won 30-24, our 101st consecutive win. I followed your advice, and it really worked. It helped me be much more focused than I have ever been during a game, and all my PAT and field goal attempts went right down the center!"

- James Bloomsburgh
De La Salle High School

"Preparation is the key component to our success here at De La Salle. 'Click to Kick' is the best preparation tool I have seen for kickers."

- Bob Ladouceur
Head Coach, De La Salle High School

Overall record: 236-14-1

Winner of 8 California State Titles, two National Titles and winner of 100 games in a row and counting...




---
DOWNLOADS
A sample video segment from Click To Kick is available for you to download. This file is not presented in the environment of the CD-Rom, nor is it the quality. It simply serves as a glimpse of the instruction to come on the CD. Click on the link next to the file to download. The video files require RealPlayer to play. If you do not have RealPlayer, you can download it by clicking on the Get RealPlayer button located below.

Any files downloaded are property of Kicking.com and may not be used or re-distributed without the written permission of Kicking.com.
An example of what your screen will look like...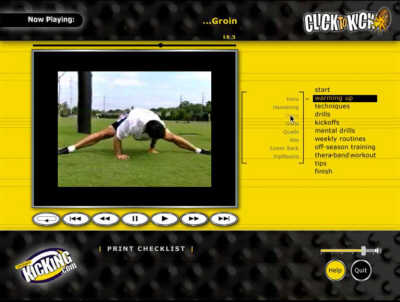 System Requirements

CD Drive and at least 800 x 600 pixels with thousands of colors

PC Requirements: Windows 95, 98 & Pentium

Mac Requirements: PowerPC OS 8.1-9x & 20 MB RAM available to application. Not compatible with new iMacs.
NOTICE: There are no refunds once the shrink wrap on the CD is opened. Sorry.

Click To Kick CD-ROM

$9.99 US

If you are having technical difficulties with the CD-ROM version on newer computers, try the following:
The "Play" and "Pause" buttons continuously flash, but don't work to start an instructional segment.

To play a segment, you will have to double-click/press the "Fast Forward" button to start the segment at
fast-forward speed, then press "Play" button to get normal speed, then
use "Fast Reverse" << button to get back (almost) to the beginning of the segment

While watching the ball on the Status Bar press the "Play" button just before the ball gets all the way back to the beginning, then you can see all of the instructional segments at normal speed. If the ball is allowed to get fully back to the beginning of the Status Bar, the segment will not play!
---

| | | |
| --- | --- | --- |
| | -- Eugen Herrigel, Zen in the Art of Archery | |