Blog submitted 4/21/2009 1:41:15 PM

2002 College

Attended Midwestern State University in Wichita Falls, Tx. NCAA D2. Played under Head Coach Bill Maskill. Heavily recruited for Punting and a chance to compete for FG and K/O duties. Injured left ankle in Training camp and red-shirted freshman year. Left MWSU after Freshman year and never returned to College ball.

<<< view all of Jarrod's blogs
---
| | | |
| --- | --- | --- |
| | -- Parent of Combine Series Participant | |

Track your Field Goals, Kickoffs and Punts with the Kick Tracker App!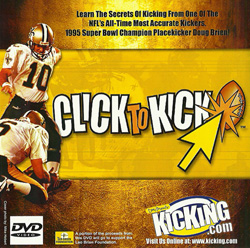 NEW and IMPROVED! - The BEST kicking advice - complete with video instruction, drills and tips, checklists, workout routines, mental relaxation tips, and more -- check out Doug Brien's "Click to Kick" DVD >>>
$39.99