The Kicking.com Stretching Program© with Stretching Strap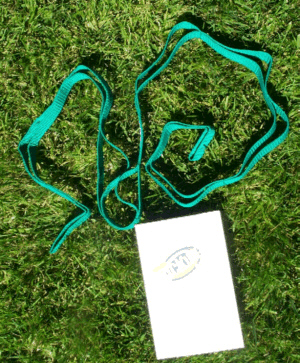 Stretching is a very important part of becoming a good kicker or punter. When I was taught the proper kicking techniques early in my college career, I realized I had a problem. My body was unable to execute the proper techniques because I lacked the necessary flexibility. Over the course of the off-season before my junior year in college I stretched rigorously for about a half hour a day. I stretched so intensely that for about the first month I actually lost flexibility because I was so sore. But slowly the soreness began to disappear and I started to become more and more flexible.
Today I can do the splits in a forward position and come fairly close in the side position. If you follow this program wholeheartedly you will undoubtedly realize the same results because I am not a naturally flexible person. Once you have the necessary flexibility you will be amazed at how much more fluid your technique will become and how much less you will experience injuries.
Stretching Program includes:
Stretching Strap Static Stretching Program
Illustrated Kicking.com Active Stretching Program©
Stretching Strap

delivers the benefits of stretching without a partner

combines isotonic, isometric and prolonged stretch

multiple-position grip allows deep, gradual stretching of major muscle groups with greater safety and effectiveness than is possible unaided

74" length; 10 grip areas

illustrated guide book included
The Kicking.com Stretching Program
serves two purposes: it minimizes the chances of injury and increase range-of-motion.

Increased range-of-motion will give you the flexibility to execute the proper kicking techniques.

This program teaches two types of stretching: static and active.

Both static and active stretching are important because they will work together to improve your overall flexibility faster and safer than other stretching routines.
Both the static and active stretching routines focus on safety.

I have been taught many stretches throughout my career which are not good for your back and other joints in your body.

This is particularly important for kickers since kickers already put a lot of strain on their backs.

For kickers it is critical to focus on stretches that do not cause you to bend your lower back into a stretch.

The Stretching Strap allows you to stretch in a safe manner (with the lower back in the neutral position) on the field.

I have always found a number of good and safe ways to stretch in a gym, but until I discovered the Stretching Strap, I never had a good on-the-field routine.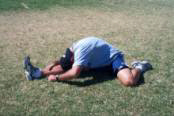 Included with your Stretching Strap is a comprehensive and illustrated stretching program that utilizes all of the benefits of the Stretching Strap. I recommend you follow this routine. This routine will fulfill the static stretching aspect of the program. I recommend you do your static stretching after a brief warm-up. Your active stretching program will follow the static stretching program.
Use this routine as a supplement to your normal strengthening program. If you do not have a program, check out my Click to Kick DVD for a complete kickers off-season strengthening program. You should try to do this at least four times a week and definitely every time you kick.
Stretching Strap
$25 US

---

| | | |
| --- | --- | --- |
| | -- Kicking.com member | |

Fun app game to flick field goals through the uprights!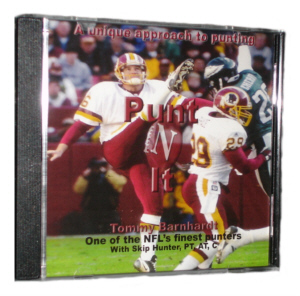 The BEST punting video - complete with 3-stage punting approach, holding, stretching tips, and more -- check out Tommy Barnhardt's "Punt-N-It" DVD >>>
$19.95