Sorry, but your membership does not allow access to this content.
You must upgrade to a Premium membership.
---
| | | |
| --- | --- | --- |
| | -- Sean Riley | |

Doug and Tommy's Frequently Asked Questions: "I can easily kick 20 and 25 yard field goals consistently. The ball looks to be good from another 20 or so yards back, but as soon as I move back to kick, the ball falls short. Is this a mental problem or should I do drills to increase distance? I think that it is partly mental because the farther I get from the uprights, the less confident I feel. What do you think?" -- Click here to read our answer

Track your Field Goals, Kickoffs and Punts with the Kick Tracker App!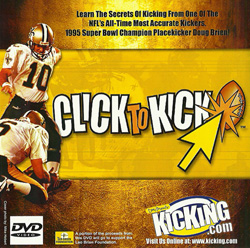 NEW and IMPROVED! - The BEST kicking advice - complete with video instruction, drills and tips, checklists, workout routines, mental relaxation tips, and more -- check out Doug Brien's "Click to Kick" DVD >>>
$39.99