Blog submitted 7/13/2009 12:38:28 PM

KICKIN IT!!!

June 30, 2009
Here we are 11 days away days away from our opening game in Charlestown MA vs. Hyde Park and there is still work to be done.
This isn't too suprising considering it was 17 years ago, during my first college soccer game, that I tore my right acl and mcl, 2 years later I led the National Small Conference in scoring (very good rehab)...12+ years since my last game at Sweeney Field (across from MFA in Boston) for Wentworth where we won our schools first ever Conference soccer title...10 years since playing for The Laza Club team in North Attleboro and for the Wentworth team at the South Shore Sports Complex in Hingham. Needless to say my focus on basketball these last 10 years (Basketball City - Boston) and less on kicking a soccer ball (to lessen the knee pain) has led to a bit of a shock to my legs as I attempt to kick the football some 65 yards way too often.
In the last 2.5 months I've managed to basically pull/strain every leg muscle I knew I had as well as a few muscles I didn't even know you could hurt in the legs. Most recently the pain has hopped back from calf to calf. Hopefully this is the last of the tearing and I'll be rested just right to hit the endzone on my kickoffs and split the uprights from 20 to 40 yards consistently.
I've always kicked field goals for a hobby throughout the years and it was something I was always good at as well as something I wanted to do at some point. My Senior year of High School I flirted with the thought of trying to catch on with the football team as well as play soccer but with our team coming off a soccer state Championship and scoring 8 goals in 5 preseason games I decided to stay focused on soccer. So needless to say when I visited Coach Driscoll and the team for a voluntary conditioning workout (just to work out) back in April and was asked by Coach if I could kick I jumped at the opportunity to show him that I could. He asked if I wanted to try out for the team and since that day I've been committed to be as good a kicker as I possibly can be.
Feeling like I was in good shape at the time I was given a program to follow by Skye with www.Mocean365.com training and really went at my conditioning very hard. I tried to kick every other day increasing my field goals out to 40 yards each day. After about 3 weeks, pulled groin, hamstrings and quads I realized that I really needed to slow down. Being fit is one thing, blasting a football 65 yards is another thing. I've since had to really limit my punts and have kicked far fewer kicks in practice and try to only hit the football field to practice on 1 additional day a week (although I can't tell you how much I'd like to kick every single day to perfect this skill as best I can).
To get better at timing/steps/head location/balance I've studied a lot of film on-line and also have talked to former friends that have kicked in High School and College. It is incredibly important to get a routine down... TBC...


July 13, 2009

Just wanted to quickly check in. I have much more to post in regards to training, studying and fighting injury to be able to become a quality kicker but for now I just wanted to check in on a few keys of my 1st semi-pro game. #1 - ALWAYS find the game ball pregame and make sure there is enough air in the ball. The ball we played with had way too little air in it and as a result kickoffs and punts suffered as a result. VERY important.
#2 - When you're called on for an extra point there are really several keys you need to remember because you'll be very busy for a few minutes. No time to tell the coaching staff the middle of the line let a man through making me push the extra point left narrowly missing (really just missed by a foot).
a. When the team is inside the 30 always have your gear on ready to attempt an extra point or field goal.
b. Make sure you know where your tee is at before you leave the sidelines.
c. After the kick quickly track down the tee, call on the kickoff team and get out onto the field quickly so you make the refs happy.
d. After the kickoff retreat back to snag the tee (or if possible find a tee kid to always snag it after the kickoff play - because it gets tiring doing all that running) because if you assist on a tackle at the 25 you'll need to remember to pick up the tee!
#3 - Practice your squib kick - "low and hard middle" is picked up by your coverage team as a squib (it still did go high - hey if you kickoff long and deep a thousand times it's hard to switch. hehe) so learn how to use your toe (not easy for us converted soccer players).
Some of the highlights of the game were:
32-22 Victory!
2 Extra Points made "Last year my team didn't convert an extra point all season" - Coach Driscoll
"Coach said you wouldn't make that first one but you almost took out that pigeon on the upper balcony in that apartment complext next door!!" - Matty
My 1st punt wasn't great because of nerves but I caught it and got it away with minimal return then on my second punt kicking from about the 40 yard line I got it downed at the 2 yard line. My biggest concentration was making the catch which I did fine on both punts now I really want to work on that skill and put a lot of power into them (and air into that flat game ball!). The other team fumbled both snaps so making that catch is obviously really important.
I feel as the game went on I grew confidence in working with the line/blockers on extra points and punts. Without any real preseason games I think this really helped get a lot of the rust out (team wide) and I think the mistakes I made will be much less frequent in the weeks ahead!
Also at the end of the game Hyde Park was down by 10 with under 2 minutes to play facing 4th down inside the 10 yard line. They should've quickly converted a field goal then went for the onsides kick. Especially since they had a 6'7 QB and very tall wide outs - one of which already caught a 50+ yard touchdown. But without a quality kicker the only option they had was to try and score then score another TD again. I think this gives us a huge advantage so I'll do my best to advance my skills and become a real weapon in situations like this for our team.

As for playing football? WOOHOO!!! It's been almost 24 hours since kickoff and I can honestly say I still feel the rush. What a great experience and I can't wait for our next game Saturday night!!!

<<< view all of Will's blogs
---
| | | |
| --- | --- | --- |
| | -- Richie Dunn | |

Track your Field Goals, Kickoffs and Punts with the Kick Tracker App!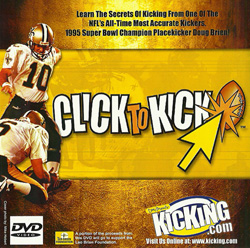 NEW and IMPROVED! - The BEST kicking advice - complete with video instruction, drills and tips, checklists, workout routines, mental relaxation tips, and more -- check out Doug Brien's "Click to Kick" DVD >>>
$39.99