After retiring from soccer, a lot of people thought that it was a promotion gag to let Manfred Burgsmueller kick field goals for a pro football team (Rhein Fire of NFL Europe). Manfred played in 447 games in the highest ranked German pro soccer league and kicked 213 goals during his
career.
"My decision to play pro football came deep down from my heart after the Rhein Fire officials asked me to play for them," Manny says. That sport
was not very popular in Germany during that time, but it fascinates me."
Now Manny is famous in both Germany and all of Europe as a kicker. Everything he knows about kicking, he learned from former Kicking Consultant to the World League/NFL Europe, Doug Blevins.
Whenever he had the chance, he flew over to the States in order to work with Doug. This year, Manfred could possibly win his third championship with the Rhein Fire. He won his first championship
in 1998 against the Frankfurt Galaxy and in his second year (2000) against the Scottish
Claymores.
Now the time is coming to retire from football.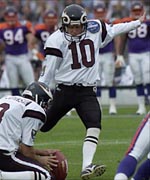 Manfred Burgsmueller is 52 years old and became the first Player in
NFL Europe history to score 300 points. He is also the oldest kicker in pro football history.
The father of three daughters, he works 12 hours a day for his success. He has a financial
agency with a friend, and a lot of unsettled work is waiting for him after the season is over. But until that time, he keeps focusing on his kicking for the Fire.
Everybody on his team likes Manny.
"Some of my teammates could be my kids," he says with a smile, but he knows about his special position in the
team, both as a kicker and a team leader.Rhein Fire has reached the finals and Manny will get his chance to win his third title on June 22nd.
"It will be a difficult game against the Berlin Thunder, but we play in our house and the fans will stay behind us. Maybe my dream will come true, to score a touchdown."
Nobody can say whether Manny will ever get his touchdown, or even if he will
retain his roster spot next year. It's not clear if the Rhein Fire will sign another former
successful soccer player again. We will have to wait and see. You need more than
just talent to kick field goals. You also need spirit. But who in Germany is crazy enough to do this job?

---
Learn more about Stefan Nickel >>>
Read more Expert Articles >>>
---

| | | |
| --- | --- | --- |
| | -- Eugen Herrigel, Zen in the Art of Archery | |