Profile Last Updated: 11/24/2018 9:35:42 AM
Website URL: http://www.kicking.com/view.asp?id=caldridge

ETHAN ALDRIDGE

Nickname: Ethan

6-, 150 lbs
H.S. Graduation: 2019
Birth Year: 2001
Sharpsburg, GA United States



Position: Kicker
Tee Height: 1



School/Team: Trinity Christian
Level: High School Grade: Senior



Personal comments from Ethan--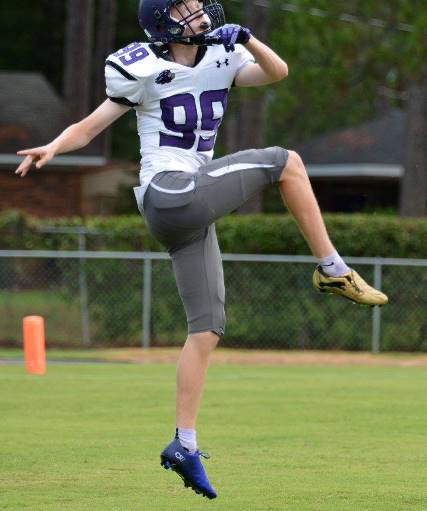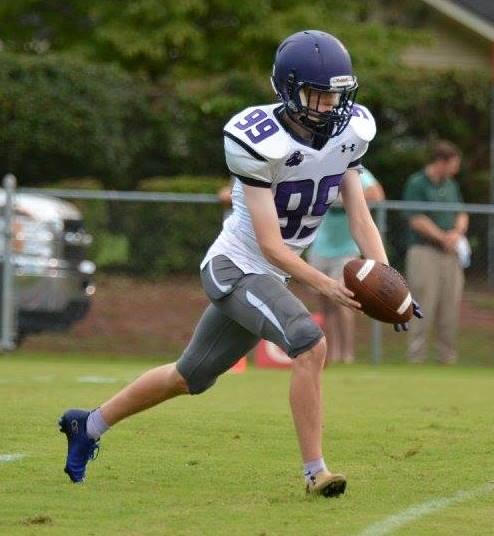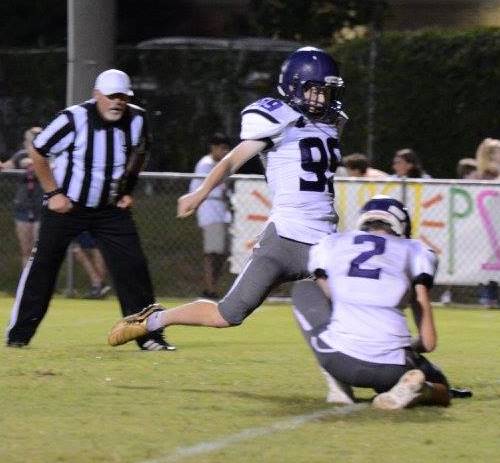 2011 5th grade place kicker for lower school team.

2012 6th grade place kicker for lower school team. Team won Metro Atlanta Christian Athletic Conference championship. Team went 10-0

2012 4.0 GPA for 2012-2013 school year. 94 average in advanced math




2012 Selected to local soccer All Star team as keeper.
Plays midfield and keeper in soccer. Has played soccer since 2005

2013 4.0 GPA upon graduation. Enrolled in advanced math and English.

2014 Season: 37 kickoffs, 4 touch backs One punt 36 yards
2015: MS soccer team MVP, started games at keeper, forward and fullback
4.0 GPA at the end of 8th grade. Enrolled in advanced math, science and English

2015 Stat notes:
9/5 PAT blocked due to a mis snap.
9/11 PAT missed due to mis snap
9/18 PAT blocked due to mis snap
2015 9th grade GPA 3.6. Takes most rigorous math, history, science and literature course.
Started on varsity soccer team in 9th grade.

2017 Beta Club, Team soccer captain,
National Honor Society

2018 Beta Club, National Honor Society
29 on ACT taken at end of junior year.




Kicking

PATM = PAT's made, PATA = PAT's attempted, FGM = FGs made, FGA = FG's attempted, TB = touchbacks, S = Canadian singles

Year

PATM

PATA

PAT%

FGM

FGA

FG%

Distances

Long

TB

2018

28

28

100.00%

9

11

81.82%

30,35, 25,40,35,33,35,42 ,53

53

11/26 = 42.3%

2017

80

84

95.24%

4

7

57.14%

26,43,27,22

43

6/72 = 8.3%

2016

25

27

92.59%

3

5

60.00%

38,23,20

38

3/25 = 12.0%

2015

31

35

88.57%

1

4

25.00%

40

40

0/30 = 0.0%

2014

0

0

0.00%

0

0

0.00%

0

2/24 = 8.3%

2014

0

0

0.00%

0

0

0.00%

0

1/17 = 5.9%

2013

5

6

83.33%

3

5

60.00%

GA

0

0/54 = 0.0%

2012

42

47

89.36%

1

1

100.00%

24

24

0/60 = 0.0%

2011

3

4

75.00%

0

0

0.00%

0

0

Total

214

231

92.64%

21

33

63.64%

* * *

53

23
Honors received: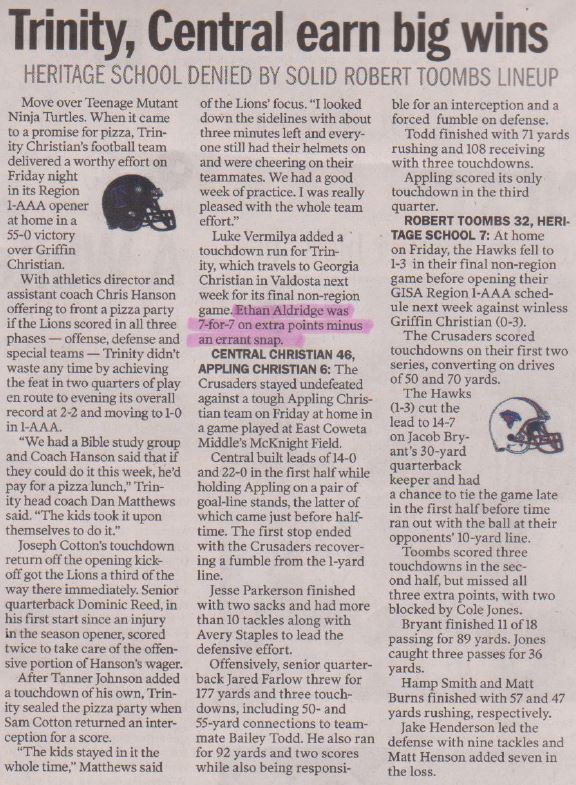 Kicked 40-yard FG


Favorite Kicker or Punter: Caleb Sturgis


Coaches!
If you want to see more information about this member, sign up for FREE access to academic information, honors, evaluations and contact information.


Players!
Want to have your own page? click here to read more about our Premium memberships, or sign up for the FREE database membership.


Articles about Ethan, listed on Kicking.com website

No articles posted on Kicking.com...
Add articles >>>

Great Performances by Ethan,
listed on Kicking.com website


kicked first career FG (24 yards) and 5-5 on PATs, 10/27/2012


Camp Performances
No camp performances included...

This profile has been visited 3048 times